LEGO has been a staple of playtime for generations, but did you know that some LEGO builders have set world records with their amazing creations? From extreme LEGO sculptures to entire maps made out of the colorful blocks, explore the incredible LEGO world records and find out which ones are currently standing!
Introduction to Lego World Records
When it comes to world records, there are all sorts of different categories that people can attempt to break. But did you know that there are also a number of Lego world records? That's right, people have used the popular building blocks to create some pretty incredible things.
In this blog post, we're going to take a look at some of the most amazing Lego world records out there. From the tallest structure ever built out of Lego bricks to the largest Lego mosaic, these records are sure to impress. So read on and be amazed at what people can do with a few (or, in some cases, millions) of Lego bricks!
Current Top 10 Guinness World Records for Lego
The tallest Lego tower was built in Milan, Italy, and measured 114 feet and 3 inches (34.8 meters) tall. They used an estimated

550,000 bricks!
The largest Lego structure ever built was a 1:1 scale model of the X-Wing Starfighter from Star Wars Featuring over 5 million bricks and weighing 45,000 pounds (thanks to its steel infrastructure), the model took an international team of designers and builders over a year to complete. It was 43 feet long (13 meters).
3.The most expensive LEGO minifigure ever sold is the Limited Edition Gold C-3PO minifigure, which went for a whopping $14,000 at auction.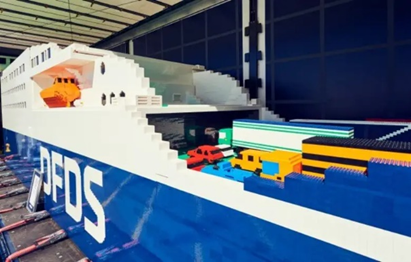 Largest LEGO® brick ship (supported) The ship was built with over 1.2 million LEGO bricks that were individually assembled into large bricks by 6,000 DFDS Global employees prior to the ship's main construction. As part of the traditional naming ceremony, a LEGO bottle of champagne was smashed against the side of the boat and named Jubilee Seaways.
Largest LEGO® brick number. Luo Wenqi, Wang Yifan, Fu Zhehao, and Wang Lisha (all from China) achieved the largest LEGO® brick number of 13,169 bricks on August 15, 2021, in Nanchang, Jiangxi, China.
6.Largest LEGO® brick Batmobile sculpture
Nathan Sawaya from the United States created the biggest LEGO® brick Batmobile ever, with a height of 1.30 m (4 ft 3 in), a length of 5.51 m (18 ft 0 in), and a width of 1.69 m (5 ft 6 in). This accomplishment was certified in London, UK, on the 28th of February, 2017.
7.Largest LEGO® brick skeleton
Measuring a whopping 6 meters (20 feet) in length and made up of 80,020 LEGO pieces, Nathan Sawaya's (USA) Dinosaur Skeleton is an exact replica of a Tyrannosaurus rex. This makes it the largest LEGO skeleton ever created.
8. On September 26th, 2018, Ben "The Brick Builder", sponsored by Caravanning Queensland and Top Parks, achieved a record-breaking number of 288,630 individual LEGO® bricks to construct the largest caravan in Brisbane, Australia. The concept was created by John Cochrane Advertising.
9. A flag made of LEGO® bricks measuring 3.47 m (11 ft 7 in) tall and 6.46 m (21 ft 2 in) wide was created by the LEGOLAND® Discovery Centre Toronto in Vaughan, Ontario, Canada, on June 28, 2018, setting the world record for the largest LEGO® brick flag.
10. Largest LEGO® brick eyeglasses
On August 27th, 2022, Zeyad and Salma Amro Ibrahim, both from Egypt, created a massive pair of eyeglasses made of LEGO® bricks in Abu Dhabi, United Arab Emirates. This impressive piece of art measured 6.2 meters in length, 2.52 meters in width, and 0.952 meters in height.
Building the Largest LEGO Model Ever
In 2015, a group of LEGO enthusiasts in the U.K. set out to build the largest LEGO model ever. Using over 4 million bricks, they created a life-size replica of a London double-decker bus. The project took over 5,000 hours to complete and was displayed at Legoland Windsor Resort.
LEGO Sets That Can Set New World Records
The Lego Company has announced that it will be setting new world records in 2023 to celebrate its 100th anniversary. The records will be for the largest Lego structure, the tallest Lego tower, and the most people building with Lego at the same time. The company is inviting everyone to participate in these record-breaking attempts.
Creative Uses of LEGO Bricks
There are all sorts of creative ways to use LEGO bricks. One popular way is to create life-sized sculptures of people or animals. Another is to build large-scale models of buildings or landmarks. Some people use LEGO bricks to make functional objects, like lamps or clocks. Others use them to create art installations or murals. And still others use them in stop-motion animation or filmmaking. LEGO bricks can be used for just about anything you can imagine – the only limit is your own creativity!
Tips and Tricks for Participating in Lego World Record Challenges
Start by doing your research. There are a few different ways to find out which records are currently held, and which ones you might have a shot at breaking. The Guinness World Records website is a great place to start, but you can also check out the Official LEGO website and the Rebrickable database.

Once you've found a record you think you can break, it's time to start planning your attempt. Make sure you have all the necessary LEGO pieces, and that you understand the requirements for the challenge. If there are any specific guidelines from Guinness or LEGO, make sure you follow them to the letter.

Practice makes perfect! Once you have everything ready, it's time to start practicing your attempt. This will help you figure out any potential problems with your plan, and give you a chance to fine-tune your technique.

When you're ready to go for it, make sure you have everything set up exactly as it needs to be. Follow all the guidelines and requirements, and make sure your attempt is being properly documented. Once everything is in place, it's time to go for it!

With these tips in mind, participating in a LEGO World Record Challenge should be a breeze! Just remember to do your research, practice ahead of time, and follow all the requirements on the day of your attempt. Good luck!
Upcoming 2022-2023 Record-breaking attempts
There's something special about Lego. The colorful bricks have a way of capturing our imaginations and inspiring us to create. It's no wonder that people love to build with Lego and that some even attempt to break world records with their creations. Guinness World Records has recognized several impressive Lego structures over the years, including the tallest tower, the longest train, and the largest model ever built. In 2015, a group of Dutch students even set the record for the largest human image made out of Lego bricks. The figure consisted of 4,037 people and was almost 9 feet tall! It's amazing what can be accomplished with Lego bricks. With a little imagination (and a lot of patience), anything is possible. Who knows what world records will be broken next?
Here is a list of a World Record-breaking attempts in 2023
Longest Lego Structure: The goal is to build the longest Lego structure, with a length of at least one mile (1.6 km).
Tallest Lego Tower: The goal is to build the tallest Lego tower, with a height of at least 500 feet (152.4 m).
Largest Lego Model: The goal is to build the largest Lego model ever created, with a total weight of at least one ton (907.2 kg).
Largest Lego Sculpture: The goal is to build the largest Lego sculpture ever created, with a total surface area of at least 8,000 square feet (743.2 m2).
Largest Lego Vehicle: The goal is to build the largest Lego vehicle ever created, with a total length of at least 20 feet (6.1 m).
It is incredible to see how far the Lego world has come and all of the amazing achievements that have been made. From the tallest structure ever built with Legos to the most expensive sculptures, it is evident that these tiny plastic blocks can be used to create extraordinary things. We hope this article has given you a glimpse into some of the most iconic Lego records out there and inspired you to try your hand at building something unique with Legos. Have fun!
If given the chance would you help break a LEGO record?
Let us know in the comments below what your favorite record was!